Outlook Text Message Service
Wire2Air outlook text message service allows you to send SMS text messages to your colleagues and customers from Microsoft Outlook 2007, Outlook 2010, Sharepoint 2010 and email address. Wire2Air email to text message service allows business to send text message to USA, Canada and 800 Global networks.
It easier and convenient to create and send text messages to mobile devices directly from outlook email client.
No carrier information required, you don't need to know recipient carrier name to send text message our server will do carrier lookup
No special or additional software required to send text messages, the feature is already installed with your Outlook\
Select recipients from outlook mobile address book, counting the number of characters in a message, previewing the message and managing all your messages.
Any replies to your text message will be automatically forwarded to your email inbox.
Allow multiple users to use the system – a powerful tool for office communication. Administrators can assign each user specified SMS credits.
This feature allows you to extend SMS to your desktop. By using your email client to send SMS's you can easily communicate with one person or groups of people while using a familiar interface.
Supports major USA carriers and international mobile operator
Receive meetings reminders and e-mail notifications on your cell phone
Use your Outlook Contacts and organizational address book
Wire2Air provides businesses and individuals SMS messaging gateway connectivity with carriers in the USA and around 800 mobile networks in the world.
Microsoft Outlook 2007 & 2010 have a built-in feature which allows users to send SMS Text messages from Outlook through SMS gateway service provider certified to work with Microsoft outlook messaging services. Wire2Air is acting as SMS gateway & business text message service provider for sending and receiving text messages from wireless carriers such as T-Mobile, AT&T, Verizon, Sprint, Virgin, Cricket, etc. But you don't need to know recipient carrier name to send text message our server will do carrier lookup.

How to get started?
Select plan and signup for the outlook text message and email to text message service.
Configure your outlook, add outlook mobile service provider (Text messaging) same as you would add email provider.
Click on Tools -> Account settings
On Email tab, click on New button
on Add New E-mail Account dialog, select "other"
Enter Wire2Air OMS service address in "Web Service Address" box
Enter your account USERID and PASSWORD
Press Test Account Settings to test your connection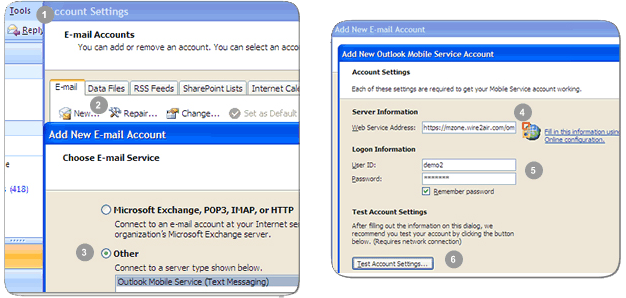 Now, you're ready to send and receive text messages directly from your mobile.
Click on New -> Select Text Message option
Enter recipient(s) mobile number(s) and Type your message and press "SEND"
The reply from recipient(s) will be forwarded to your outlook.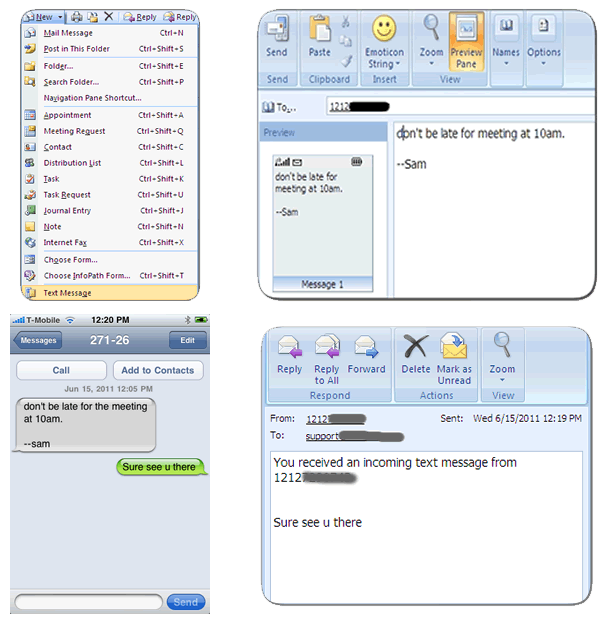 Frequently Asked Questions about Wire2Air Outlook mobile service
1. Can I send text message to multiple receipients?
Yes, you can send text messages to multiple receipients.
2. Is it possible to send messages longer than 160 characters?
Yes, you can messages longer than 160 chars, outlook automatically split messages in parts.
3. Does message recipient needs to include any keyword in their reply message?
No, reply doesn't need to have any keyword in their message.
4. Can we allow anyone from our company to send a message, can we create multiple user accounts?
Yes, you can add multiple user accounts and assign them text credits.
5. Do I need to know wireless carrier or operator of recipients?
No carrier information required, you don't need to know recepient carrier name to send text message our server will do carrier lookup. Supports major USA, Canada and international mobile operator
6. How much does it cost?
We have plan starting from $49.00 a month which allows you to send and receive upto 1000 messages. Remaining text messages will rollover to next month. For all plans information, click here PRICING.
7. What is the outlook text message service web address?
For outlook you need to use https://mzone.Wire2Air.com/oms/ Or you can use full address https://mzone.Wire2Air.com/oms/outlookmobileservice.asmx
For more information visit Microsoft office website;