Email To Text Message Service (SMS Gateway)
Send a text message from email account using Email to text message service (SMS Gateway). You can use any of email client (MS & Outlook, Gmail or any other email client) to send and receive SMS messages.
This is a great interface for people comfortable with using email. It also allows for multiple people to use the system – a powerful tool for office communication. Once registered follow the email setup steps and you are ready to send from your email client. Replies to an SMS can automatically be forwarded to an email address of your choice.
This feature allows you to extend text messaging service (SMS) to your desktop. By using your email client to send SMS's you can easily communicate with one person or groups of people while using a familiar interface.
As this is a 2way platform, responses to the SMS will be sent to the email account. When you respond to these reply emails they will automatically be converted back to an SMS and sent to the responder's phone.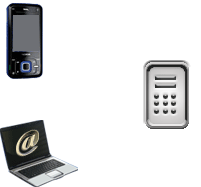 How to send an email to any Mobile phone as Text message
To send a text message, address an email to the mobile phone number like so
Email TO: 17321234567@text2email.net
Subject: [leave blank – no subject line necessary]
Hi. Do you want to meet after work? Sarah

The mobile will receive a normal text message, to which they can then reply using a text message
Reply text messages will be forwarded to your email account:
Email TO:
17321234567@text2email.net,17321345678@text2email.net
Subject: [leave blank – no subject line necessary]
Campus Alert. Heavy snow expected today. All classes canceled.
Call Emergency line for any help.
Frequently Asked Questions about Email to SMS:
1. Can we receive the reply to multiple email address?
Yes, you can configure your email2sms campaign to include multiple authorized email addresses.
2. Is it possible to send messages longer than 160 characters?
Yes, please contact Wire2Air support after configuring your Email2SMS campaign and support can activate this feature. You can set the limit of messages for Email2SMS.
3. Does message recipient need to include any keyword in their reply message?
No, the reply doesn't need to have any keyword in their message.
4. Can we allow anyone from our company to send a message from email account?
Yes, you can permit your entire domain so that anyone from your company can send Email to text message.
5. How much does it cost?
We have a plan starting from $49.00 a month which allows you to send and receive up to 500 messages. For all plans information,