International SMS, Global SMS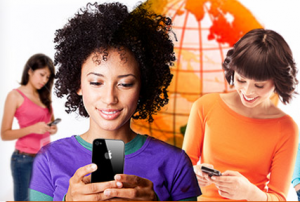 International SMS, Global SMS Text Message enables you to send SMS text messages from your computer, server, Web site and application to mobile phones worldwide. You send Bulk SMS through a variety of readymade software or application interfaces to an SMS gateway, which will transmit them towards any operator in coverage. These include GSM, CDMA, and fixed landline operators. You can send Bulk SMS to over 800 operators in over 200 countries and reach billions of mobile users around the globe.
International SMS Gateway Features
Send and receive SMS text messages all around the world
2 Way SMS messaging, send and receive text messages worldwide
Web Interface for full control over your account including real-time logs and reports
Access to our web SMS applications
Intelligent message sending so that your messages will be delivered within seconds
Dynamic Sender ID (OA) Originator address easily specified as any name or number
Binary support for WAP push, ringtones, logos, vcards and any UDH message with headers
Concatenated (Long) messages also know as multipart SMS messaging for long text messages
Delivery reports
Unicode SMS
International SMS Coverage
We cover over 800 operators in over 200 countries, for complete list download excel file.
How to Get Started?
To signup for International SMS and Global SMS delivery service, please contact Wire2Air sales.
How to send Bulk SMS or Text message SMS Gateway 2way developer API
Tap into our two-way SMS Developer API to quickly launch your own SMS marketing applications.
Web SMS: Send Bulk SMS with a click
Web SMS provides solutions to send and receive single and bulk SMS messages using the Internet. You can enter, paste or upload the list of mobile number to broadcast a message.
Command line application
Send SMS from a command line, it can be used to integrate with third-party CRM, ERP, Microsoft management server and server applications for alerts management.
Excel2Text
Allow you to send personalized text messages to list of mobile numbers directly from Excel plug-in. You can mail merge messages with customized information for each mobile number. Example of alerts; customers balance update, payment reminder, etc.
<divclass="inner_bold">
Outlook plugin
Using Microsoft outlook SMS integration, you can now send SMS or text messages directly from outlook without leaving your office desktop. Work in the environment of your comfort, no need to open a website, upload mobile numbers or launch another application. You can send and receive replies directly from Microsoft outlook.
Email-to-SMS: Send text message from Email
By using your email client to send SMS from email, you can easily communicate with one person or groups of people while using a familiar email client interface such as Outlook, Gmail, Yahoo, etc.