Mobile marketing solutions & Campaigns
Wire2air has offered mobile marketing solutions worldwide with its best mobile marketing campaigns management technology.
Mobile marketing solution is directly related to text message marketing campaigns which use mobile phone to send promotional text messages about your products and services. The technology comes in focus in recent few years, as mobile users increased in the world, over 3.4 billion mobile text messages send worldwide and the response rate of text message coupons, advertisement is about 70% of sent text messages. You have not seen such response rate ever before with any wireless carrier. This is due to, it is the easiest, inexpensive means of communication with location based customer. But for stared your own text messaging campaign, you need short code service and customer API to send sms to your customer. Wire2air is the only US based mobile marker worldwide who provide innovative mobile marketing services with innovative content and advance text messaging software platform.
Wire2air web based text messaging application has simple but customize functions to run your own mobile marketing campaigns. You have now own set up of to send text messages that means, you saved thousands of dollar to run marketing campaign with other agencies. For starting with wire2air mobile marketing solution, you need to signup with a keyword which denotes you company or brand name. we provide you a short code number with your keyword to send or receive text messaging campaign via out custom sms gateway API. Our mobile marketing solution & services team provide you interactive content to your customer to drive unexpected traffic to your product.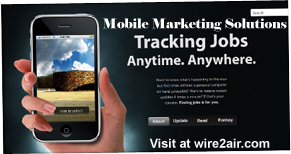 By signing up with our mobile marketing solution & service, you can instantly increase your business sales. We provide real time marketing solutions to your products to increase sales like voting contest, polling, text2win contest, mobile coupons, and interactive sms messaging to improve your business revenue. Our company is devoted to help any types of small as well as big organization mobile marketing needs. Some of the popular fields benefited with our mobile marketing solution include restaurants & Bar clubs, Real Estate Company, media industry, entertainment, radio stations, call centers, TV shows, sports team & Leagues, Retail shops, Salons, Medicine industry, advertisers and software developers etc. Signup and ready to go!